We & Re fundia wins a CAST Challenge award 🏆
On Monday 18 July, the winners of the first edition of the CAST Challenge by Société Générale – Forge were announced at the Crypto & Finance Forum organised by ADAN.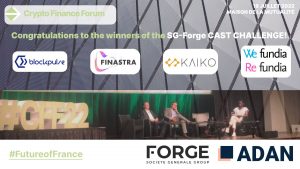 Congratulations to Adan for the Crypto Finance Forum event, a one-day gathering of the crypto finance ecosystem.
A big BRAVO to all the participants of the CAST Challenge and in particular to Blockpulse, Finastra, Kaiko and Lunalogic Group the winners of the other challenges.
CAST Challenge by Société Générale – Forge
The CAST CHALLENGE is a hackathon with 5 challenges during 3 months. It is open to all companies worldwide (including start-ups, technology service providers and financial institutions). The CAST aims to find operational solutions for financial market players, in particular on financial securities based on DLT (Security Tokens).
The CAST CHALLENGE is organised by Société Générale-Forge and its partners. It aims at offering open-source solutions for Security Tokens markets' stakeholders compatible with the CAST Framework. It seeks to respond to existing problems met by financial institutions, most notably investors, to find efficient ways for the use of Distributed Ledger Technology (DLT) and Security Tokens at bank-grade level.
The CAST (Compliant Architecture for Security Tokens) Framework is a new market standard and open source set of computer code components designed for the issuance, custody and trades of financial securities on a blockchain.
Within the framework of the CAST CHALLENGE, the different teams have worked on existing standards (ERC-20, FA1.2, ERC-1400, etc.) to define a common taxonomy of Security Tokens and on a set of basic functions (issuance, subscription, transfer, settlement, etc.) to operate a Security Tokens in the same way whatever the subjacent standard. The objective is to develop the interoperability of the players in the Security Tokens market.
For an improved interoperability of the Security Tokens market…
SG Forge is committed to consolidating and promoting new ways to digitise securities. Through distributed ledger technologies (DLT), financial securities can be tokenised as security tokens, opening up new opportunities for the markets (potentially allowing settlement by simultaneous exchange of tokens). 
We fundia and Re fundia presented their open-source Smart contract for managing security tokens in the financial markets, compatible with the CAST (Compliant Architecture for Security Tokens) Framework, to a jury in July.
The CAST framework is an open source initiative. It creates a bridge between traditional centralized finance (CeFI) and decentralized finance (DeFI) on shared market practices and open source components to facilitate the integration of issuers, investors and service providers. And thus to easily operate in an international market connecting traditional finance participants with decentralised finance players.
The CAST framework provides a holistic approach to the entire life cycle of Security Tokens issued on blockchain technology (regardless of the DLT chosen). It is designed to take advantage of ongoing projects for the next steps (the EU Pilot Regime Regulation dedicated to financial securities on DLT, progressive industrialisation of listed and unlisted markets for Security Tokens, etc… ).
Many thanks for this recognition
We fundia & Re fundia has been selected to compete in two challenges:
Challenge #1 (Universal Security Token Structuring Standard) 
and Challenge #2 (Universal Settlement Coin with native atomic settlement mechanism).
We fundia & Re fundia won the Challenge #2 award. This prize is a real recognition from the financial markets. It rewards the investment and work of our teams.
For this first edition of the CAST CHALLENGE, a prestigious jury was gathered to select the best projects. We would like to thank Laurence Arnold (AXA Investment Managers), Thomas Douchez (Visa), Andrés LOPEZ VERNAZA (Banque de France), Martijn Siebrand (ABN AMRO Bank N.V.), Jean-Marc Stenger (Societe Generale – FORGE), John Whelan (Crypto & Digital Assets Units) and Tom Zschach (SWIFT) for taking part in this event. 
Thanks to the mentors from Société Générale-Forge, Accenture and OnePoint who were active in helping the different candidates during the CAST CHALLENGE.
We are grateful for the excellent collaboration with the Société Générale FORGE teams on the securities delivery process versus settlement through stablecoins.
We fundia & Re fundia unleash impact financing for businesses and cooperatives by tokenizing debt in the form of Security Tokens:
wefundia.com is a B2B lending platform (primary market);
refundia.eu is a marketplace for the issuance and OTC trading of debt securities in the form of security tokens (bonds, equity securities, debt, …). Re fundia is a bulletin board for the secondary market.